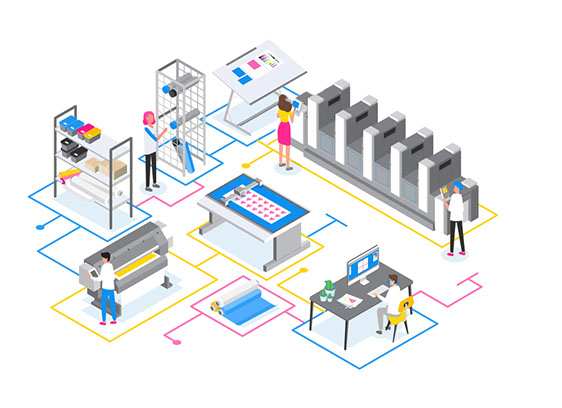 VALUE ADDITION
Our printing capabilities and scope of work are mentioned below:
MULTI COLOR PRINTING
DIE CUTTING
FOLDING & GLUING
DOUBLE COATING
FOIL STAMPING
WATER BASE & UV COATING
WITH DRIPOFF EFFECT
GUILLOTINING
POLY COATING
PLASTIC SHEET PRINTING
METALIZED SHEET PRINTING
SPOT UV
BOPP & PET LAMINATION
Pre-Press
In-house Computer to Plate (CTP) system which outputs images created on a computer application directly on a printing plate without any loss of detail. It also helps us efficiently meet our deadlines. We also have the latest digital proofing systems which enable the customer to approve the desired colour and content before proceeding with the bulk print.
Printing
State of the art high speed multi-colour presses from Heidelberg and Komori with Double Coating, Single Coating, UV & conventional printing capabilities.
Die-Cutting
Fully Automatic High Specification die cutting machines from Bobst, Iberica and Heidelberg with quality control equipment installed. In line stripping capability to ensure minimum wastage and quick turnaround.
Folding & Gluing
High speed and accurate folding and gluing machines from Bobst and Vega with glue guns installed for precision gluing. Capability to use inline hot and cold melt glues on same carton.
Guillotining
High precision Polar Guillotines with electronic control and joggers.
Poly Coating & Slitting
Our Poly Coating department caters to the paper cups and ice cream products we produce. We house the latest machines for poly coating and slitting which are able to tackle the most demanding deadlines.
Bookbinding
Our bookbinding department is equipped with folding and binding machines from Germany and Switzerland. We are capable of producing over 100,000 saddle-stitched (pin binding) and 50,000 perfect bound books simultaneously in 1 day!
Lamination
Our company is equipped with 3 high-speed sheet-to-sheet BOPP and PET lamination machines with the option to use thermal or glue lamination films. The machine has electronic systems which precisely control glue application between film and paper reducing wastage and saving costs.
Transport
UBC Convertec has its own fleet of vehicles from a 15-ton truck to a pickup truck to cater to our client's emergency deliveries. We also have 3 forklift trucks in our warehouses for safe handing of all raw material and finished goods.
Power
Caterpillar Generator Set. 455 Kva. 2013 Model, (Prime Use UPS (APC-7000 400 Kva.)